A Life of Generosity: Glee Heikes
As one who has been a legacy and gift planning consultant for more than eighteen years, many donors with whom I worked have died.  Gift officers and consultants in the gift planning area usually meet donors who are on the "back nine" of life, so to speak: donors in their 60s, 70s, or 80s.  We, therefore, work with and get to know donors as they complete the circle of life.  
Sadly, Glee Heikes from Southern California passed away recently and is now amongst the group of donors with whom I worked who are deceased.  Although gift officers and consultants are not supposed to admit that we have favorite donors, we do, and Glee Heikes was one of mine.
Glee was elegant, smart, humble, resourceful, a woman of faith, a tireless volunteer, and generous.  She gave her time and financial resources to many nonprofits located in the High Desert, but especially to Providence St. Mary Medical Center Foundation.  Glee's cumulative Foundation board service numbered more than two decades and included at least two stints as its chair.
Two words best describe Glee: generous and humble.  In November 2019, Glee was awarded the AFP Lifetime Achievement Award at the Mission Inn located in Riverside, California.  I was privileged to surprise Glee and attend the awards' luncheon.  Glee was nervous, perplexed that she had been selected for this award, and anxious about speaking to a relatively large audience.  Of course, Glee rose the occasion and spoke of her and late husband's (Hanley's) commitment to philanthropy and to helping meet the health care needs of those living in the High Desert.  Near the conclusion of Glee's remarks, she stated her life's creed: "the joy of living is the joy of giving" and challenged us to embrace that creed and take it back into our communities to make a difference in others' lives.  Glee lived to serve others, volunteer, and to raise and give money to nonprofit institutions most important to her.  Put simply, Glee served as the ultimate social example for other donors to follow.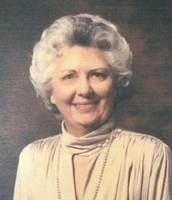 Heaton Smith clients place a lot of trust in us to work with a small cohort of their donors in the area of legacy planning.  Providence St. Mary Medical Center Foundation gave me the privilege of working with their donors for six years.  Glee was a strong advocate of our work, agreed to "star" in Heaton Smith's first video, and was instrumental in getting other influential Foundation donors to meet with me.  Glee and her friends with whom I worked either gave current gifts of assets or documented estate gifts valued at more than $5,000,000.  These gifts have made, and continue to make, a difference in the lives of those in need of excellent health care in the High Desert.  Glee not only leaves a legacy of family and friends, but one of generosity that all who knew her should emulate.